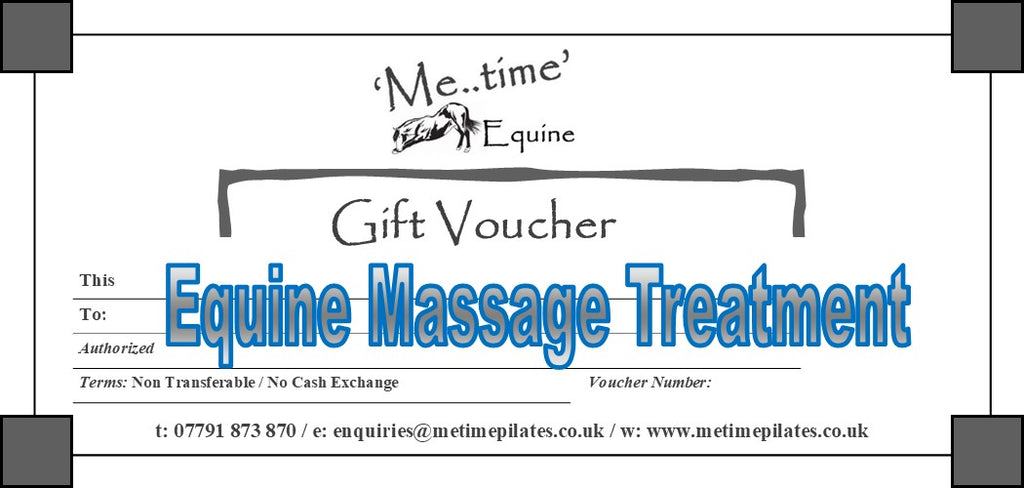 'Me..time' Pilates
Gift Voucher - Equine Massage
A fabulous Gift solution for every horse fan.

Equine Massage offers a multitude of benefits including injury prevention, recovery / rehabilitation and improved performance. A variety of non-invasive techniques are used to help restore optimum soft tissue and joint health in the horse
A treatment session itself involves a full assessment of the soft tissues and joint mobility of the horse's body. I then treat the entire musculoskeletal system of the horse, whilst tailoring the treatment and techniques to what I believe will deliver the best results for the horse on that day.
I use a variety of techniques including therapeutic massage, deep tissue massage, trigger point therapy, myofascial release techniques, as well as a full range of active and passive stretches. Heat and laser therapy is offered as an integral part of the treatments when required
The treatments are very in depth, so expect them to take time. Treatments can vary from 50 minutes to two hours depending on the horses needs at the time.
Give us the recipients name and we'll email or post the voucher to you.
---
Share this Product
---
More from this collection